The Sound Of Her Voice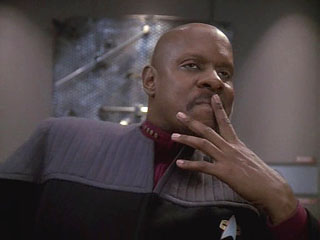 Hvězdné datum: neuvedeno
Datum premiéry: 10.6.1998
Hodnocení:

Uživatelské hodnocení

(10)

:

chci hodnotit
Defiant zachytí nouzové volání a hlas kapitána Lisy Cusak, jejíž úniková kapsle ztroskotala na vzdálené planetě poté, co byla její lod zničena. Ačkoliv posádka Defiantu není schopna navázat oboustrannou komunikaci, mohou neustále naslouchat jejímu hlasu. Cesta bude trvat šest dní a tak se o ní dozvídají stále více. Když jednou O'Brien naslouchá zábavnému monologu, Lisa na něj promluví, protože zaslechla jeho rozhovor s Kasidy Yates. Oba si uvědomí, že navázali komunikaci a Lisa bude zahcráněna... a nebo ne?
---
---
Guest Stars
Debra Wilson: [Lisa Cusak]
and
Penny Johnson as "Kasidy Yates"

Creative Consultant: Michael Piller
Coordinating Producer: Robert della Santina
Co-Producer: J.P. Farrell
Co-Supervising Producer: Steve Oster
Co-Supervising Producer: René Echevarria
Supervising Producer: Hans Beimler
Supervising Producer: Peter Lauritson
Co-Executive Producer: Ronald D. Moore
Teleplay By: Ronald D. Moore
Story By: Pam Peitroforte
Directed By: Winrich Kolbe

Executive Producers
Rick Berman
Ira Steven Behr

Co-Producer: Terri Potts
Story Editors: Bradley Thompson & David Weddle
---
Poznámky
Penny Johnson se jako Kasidy Yates objevuje v epizodách DS9: Family Business, DS9: The Way Of The Warrior, DS9: Indiscretion, DS9: For The Cause, DS9: Rapture, DS9: Far Beyond The Stars, DS9: The Sound Of Her Voice, DS9: Take Me Out To The Holosuite, DS9: Badda-Bing Badda-Bang, DS9: Penumbra, DS9: 'Til Death Do Us Part, DS9: Strange Bedfellows, DS9: The Changing Face Of Evil, DS9: The Dogs Of War, DS9: What You Leave Behind. Poprvé se objevila jako Dobara v TNG: Homeward.
---










Další obrázky
[1] [2] [3] [4] [5] [6]
---