Q-Less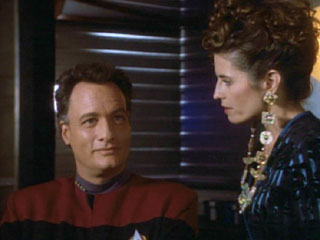 Hvězdné datum: 46531.2
Datum premiéry: 8.2.1993
Český název: Bez Q
Datum české premiéry: 29.5.1994
Hodnocení:

Uživatelské hodnocení

(13)

:

chci hodnotit
Runaboat se vrací z gama kvadrantu bez energie a s jedním pasažérem navíc. Miles je dost zaskočený, když na palubě najde Vash - blízkou přítelkyni kapitána Picarda a taky Q. Najednou začne cosi odčerpávat energii i ze stanice, všichni to dávají za vinu Q, ale ten neustále tvrdí, že za nic nemůže a naopak že jediný, koho by si měli všímat, je Vash...



---
---
Guest Stars
Jennifer Hetrick: [Vash]
John de Lancie: [Q]

Co-Producer: Peter Allan Fields
Producer: Peter Lauritson
Supervising Producer: David Livingston
Supervising Producer: Ira Steven Behr
Teleplay by: Robert Hewitt Wolfe
Story by: Hannah Louise Shearer
Directed by: Paul Lynch

Executive Producers: Rick Berman & Michael Piller

Associate Producer: Steve Oster

Co-Stars
Van Epperson: Bajoran Clerk
Tom McCleister: Kolos
Laura Cameron: Bajoran Woman
---
Poznámky
John de Lancie si postavu Q zahrál ve 14 epizodách Star Treku v TNG, DS9 i VOY. TNG: Encounter At Farpoint, TNG: Hide And Q, TNG: Q Who?, TNG: Deja Q, TNG: Qpid, TNG: True Q, TNG: Tapestry, TNG: All Good Things..., DS9: Q-Less, VOY: Death Wish, VOY: The Q And The Grey, VOY: Q2. Jako Q si i zahrál ve hře Star Trek: Borg.
Jennifer Hetrick si Vash zahrála ještě v epizodách TNG: Captain's Holiday a TNG: Qpid.
Van Epperson (Bajoran) už hrál Lorilliana v ENT: Broken Bow a zřízence v márnici v TNG: Time's Arrow, Part II.
---