First Flight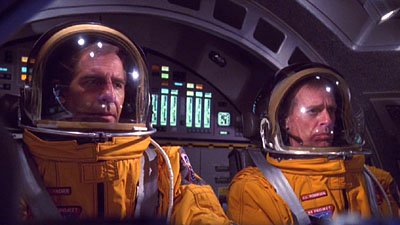 Hvězdný deník: neuveden
Datum premiéry: 14.5.2003
Hodnocení:

Uživatelské hodnocení

(7)

:

chci hodnotit
Archer dostává zprávu, že jeho starý rival A. G. Robinson zemřel při výstupu na Mt. McKinley. Oba byli součástí NX testovacího programu a byli první, kteří překonali bariéru warp 2. Enterprise se právě chystá prozkoumat jev, který vypadá jako temná mlhovina. Archer odlétá sám s T'Pol a je nezvykle zamlklý. T'Pol se ho nakonec podaří rozmluvit a Jonathan ji začne vyprávět, jak spolu bojovali o místo prvního pilota, který překoná bariéru a jak komodor Forrest na celý program dohlížel...
---
---
Guest Stars:
Brigid Brannagh: [Ruby]
Vaughn Armstrong: [Admiral/Comodore Forrest]

Special Guest Star
Keith Carradine: [Robinson]

Theme By: Diane Warren
Performed By: Russell Watson
Consulting Producer: David A.Goodman
Co-Producer: Brad Yacobian
Producer: Dawn Velazquez
Producer: J.P. Farrell
Supervising Producer: Merri D. Howard
Supervising Producer: Peter Lauritson
Co-Executive Producer: John Shiban
Co-Executive Producer: Chris Black
Written By: John Shiban & Chris Black
Directed By: LeVar Burton

Executive Producers
Rick Berman & Brannon Braga

Co-producer: Stephen Welke
Co-producers: Phyllis Strong & Mike Sussman
Associate Producer: David Rossi
Story Editor: André Bormanis

Co-Stars:
Michael Canavan: Vulcan Advisor #1
John B. Moody: Security Officer
Victor Bevine: Flight Controller
---
Poznámky
Epizodu režíroval LeVar Burton aneb Geordi La Forge.
Vaughn Armstrong hrál ve Star Treku několik různých postav: Klingonský komadér Korris v TNG: Heart Of Glory (1), Cardassian Gul Danar DS9: Past Prologue (2), Romulan Telek R'Mor ve VOY: Eye Of The Needle (3), Cardassian Seskal ve dvou epizodách DS9: When It Rains... , DS9: The Dogs Of War (4), ex-borg Druhý z devíti ve VOY: Survival Instinct (5), vidiianský kapitán ve VOY: Fury (6), Alfa Hirogen ve VOY: Flesh And Blood (7), klingonský kapitán Korath ve VOY: Endgame, Part I (8), admirál Forrest v epizodách ENT: Broken Bow, ENT: Fortunate Son, ENT: Shadows Of P'Jem, ENT: Fusion, ENT: Fallen Hero, ENT: Shockwave, ENT: Cease Fire, ENT: Future Tense, ENT: Regeneration, ENT: First Flight, ENT: The Expanse, ENT: Home, ENT: The Forge, ENT: In A Mirror, Darkly (9), klingonský kapitán v ENT: Sleeping Dogs (10), kreetassanský kapitán v ENT: Vox Sola, ENT: A Night In Sickbay (11).
Michael Canavan se také objevil jako Tamal v DS9: Defiant a jako Curneth ve VOY: Unforgettable.
Victor Bevine si také zahrál Belara v DS9: Things Past, člena bezpečnosti ve VOY: Pathfinder a ve filmu ST VIII: First Contact.
---

Další obrázky
[1] [2] [3] [4] [5] [6]
---