Genesis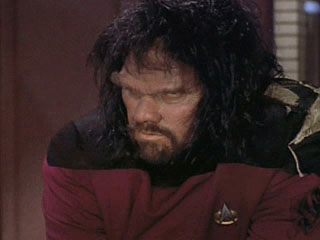 Hvězdné datum: 47653.2
Datum premiéry: 3.4.1994
Český název: Geneze
Datum české premiéry: 8.12.2000
Hodnocení:

Uživatelské hodnocení

(8)

:

chci hodnotit
Doktorka Crusherová připravuje pro hypochondrického Barclayho syntetické T-buňky, protože přišel s chřipkou, proti které je jeho imunitní systém bezmocný. Dat se mezitím připravuje na narození Flíčkových koťátek a sestra Ogawa oznámí, že je také těhotná. Worf využívá času k testování nově vylepšených zbraní, při kterém mu unikne jedno torpédo. Picard s Datem si vezmou raketoplán a vydají se za ním, aby torpédo zneškodnili. Když se po úspěšně splněném úkolu vrátí na Enterprise, jsou šokováni, když uvidí loď pohybující se volně prostorem bez energie. Když se dostanou na palubu, zjistí, že hlavní počítač a většina systémů je mimo provoz a po palubě se pohybují zvláštní zvířecí tvorové...
---
---
Guest Stars
Patti Yasutake: [Ogawa]
And
Dwight Schultz: "Barclay"

Consulting Producer: Peter Lauritson
Co-Producer: Wendy Neuss
Co-Producer: Brannon Braga
Producer: Ronald D. Moore
Line Producer: Merri D. Howard
Supervising Producer: David Livingston
Executive Producer: Jeri Taylor
Executive Producer: Michael Piller
Written By: Brannon Braga
Directed By: Gates McFadden

Executive Producer: Rick Berman

Executive Story Editor: René Echevarria
Story Editor: Naren Shankar

Co-Stars
Carlos Ferro: Ensign Dern
Majel Barrett: Computer Voice
---
Poznámky
Epizodu režírovala Gates McFadden aneb Beverly Crusherová.
Dwight Schultz je znám svou rolí Rege Barclayho z mnoha epizod TNG jako například TNG: Hollow Pursuits, TNG: The Nth Degree, TNG: Realm Of Fear, TNG: Ship In A Bottle, TNG: Genesis. Krátce se objevil ve filmu ST VIII: First Contact. Ve Voyageru se objevil v epizodách VOY: Projections, VOY: Pathfinder, VOY: Life Line, VOY: Inside Man, VOY: Author, Author a VOY: Endgame.
Patti Yasutake se jako sestra Alyssa Ogawa objevila v TNG: Future Imperfect, TNG: Clues, TNG: Identity Crisis, TNG: The Host, TNG: The Game, TNG: Ethics, TNG: Cause And Effect, TNG: Imaginary Friend, TNG: The Inner Light, TNG: Realm Of Fear, TNG: Man Of The People, TNG: Suspicions, TNG: Parallels, TNG: Lower Decks, TNG: Genesis, TNG: All Good Things..., ST VII: Generations, ST VIII: First Contact.
---