Tribunal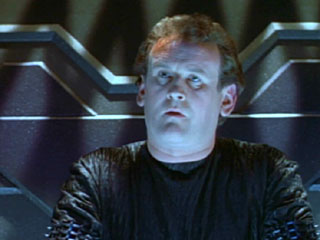 Hvězdné datum: 47944.2
Datum premiéry: 6.6.1994
Český název: Tribunál
Datum české premiéry: 23.6.1996
Hodnocení:

Uživatelské hodnocení

(9)

:

chci hodnotit
Miles letí s Keiko na zaslouženou dovolenou, když je najednou odchytí cardassijská hlídka a z nepochopitelných důvodů O'Briena zatýká za zločiny proti cardassijskému lidu. Keiko se okamžitě vrací na stanici a informuje Siska. Ten se snaží něco podniknout, ale pozdě. Nad Milesem O'Brienem je vynesen rozsudek smrti...



---
---
Guest Stars
Rosalind Chao: [Keiko]
Caroline Lagerfelt: [Makbar]
John Beck: [Raymond Boone]
Richard Poe: [Gul Evek]
Julian Christopher: [Cardassian Voice]
And
Fritz Weaver: [Kovat]

Consulting Producer: Peter Lauritson
Producer: Peter Allan Fields
Supervising Producer: James Crocker
Supervising Producer: David Livingston
Co-Executive ProducerIra Steven Behr
Written By: Bill Dial
Directed By: Avery Brooks

Executive Producers: Rick Berman & Michael Piller

Co-Producer: Steve Oster
Story Editor: Robert Hewitt Wolfe

Co-Star
Majel Barrett: Computer Voice
---
Poznámky
Epizodu režíroval Avery Brooks aneb kapitán Sisko. Stal se prvním hercem DS9, kterému bylo umožněno režírovat epizodu DS9.
Rosalind Chao se jako Keiko O'Brienová objevuje v epizodách (celkem 28) TNG: Data's Day, TNG: The Wounded, TNG: Night Terrors, TNG: In Theory, TNG: Disaster, TNG: Violations, TNG: Power Play, TNG: Rascals, DS9: A Man Alone, DS9: If Wishes Were Horses, DS9: In The Hands Of The Prophets, DS9: The Siege, DS9: Cardassians, DS9: Rivals, DS9: Armageddon Game, DS9: Whispers, DS9: Tribunal, DS9: The House Of Quark, DS9: Fascination, DS9: Accession, DS9: Hard Time, DS9: Body Parts, DS9: Looking For par'Mach In All The Wrong Places, DS9: The Assignment, DS9: The Begotten, DS9: Time's Orphan, DS9: What You Leave Behind.
Richard Poe se jako Gul Evek objevil v několika epizodách TNG, DS9 i VOY jako: TNG: Journey's End, TNG: Preemptive Strike, DS9: Playing God, DS9: The Maquis, Part I a VOY: Caretaker, Part I.
---