The Search, Part II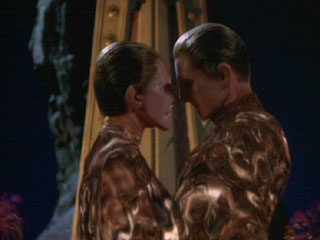 Hvězdné datum: neuvedeno
Datum premiéry: 3.10.1994
Český název: Hledání, část II
Datum české premiéry: 28.2.1998
Hodnocení:

Uživatelské hodnocení

(7)

:

chci hodnotit
Po napadení Defiantu Jem´Hadary se Odo s Kirou dostávají do mlhoviny Omarion, kde Odo konečně nachází svůj lid. Sisko a Bashir se v záchraném modulu snaží dostat zpět k červí díře, ale než se tam dostanou, zachytí je Jem´Hadarská loď s Jadzií a O´Brienem na palubě. Po návratu na stanici jim admirál Nechayev oznámí, že byla uzavřena mírová smlouva mezi Dominionem a Federací a v důsledku nové smlouvy přebírá Dominion kontrolu nad červí dírou i nad celým sektorem...
---
---
Guest Stars
Salome Jens: [Female Shapeshifter]
Andrew Robinson as "Garak"
Natalija Nogulich: [Admiral Necheyev]
Martha Hackett: [T'Rul]
Kenneth Marshall: [Eddington]
William Frankfather: [Male Shapeshifter]
And
Dennis Christopher as "Borath"

Line Producer: Robert della Santina
Producer: Rene' Echevarria
Producer: Peter Lauritson
Supervising Producer: Ronald D. Moore
Supervising Producer: David Livingston
Co-Executive Producer: Ira Steven Behr
Teleplay By: Ira Steven Behr
Story By: Ira Steven Behr & Robert Hewitt Wolfe
Directed By: Jonathan Frakes

Executive Producers: Rick Berman & Michael Piller

Co-Producer: Steve Oster
Executive Story Editor: Robert Hewitt Wolfe

Co-Stars
Christopher Doyle: Jem'Hadar Officer
Tom Morga: Jem'Hadar Soldier
Diaunte': Jem'Hadar Guard
Majel Barrett: Computer Voice
---
Poznámky
Epizodu režíroval Jonathan Frakes aneb William Riker.
Salome Jens se poprvé objevuje jako zástupce měňavců. Poté v epizodách DS9: Heart Of Stone, DS9: Broken Link, DS9: Behind The Lines, DS9: Favor The Bold, DS9: Sacrifice Of Angels, DS9: Treachery, Faith, And The Great River, DS9: Penumbra, DS9: 'Til Death Do Us Part, DS9: Strange Bedfellows, DS9: The Changing Face Of Evil, DS9: Tacking Into The Wind, DS9: The Dogs Of War, DS9: What You Leave Behind. Mimoto také ztvárnila postavu humanoida v TNG: The Chase.
Andrew J. Robinson si Garaka zahrál celkem ve 40 epizodách DS9, počínaje DS9: Past Prologue. Kromě toho režíroval tři epizody Star Treku a to DS9: Looking For par'Mach In All The Wrong Places, VOY: Blood Fever a VOY: Unforgettable.
Natalija Nogulich se admirála Necheyevovou zahrála v epizodách TNG: Chain Of Command, Part I, TNG: Descent, Part I, TNG: Journey's End, DS9: The Maquis, Part II, TNG: Preemptive Strike, DS9: The Search, Part II.
Martha Hackett (T'Rul) je především známa jako Seska ze seriálu Voyager. Objevuje v epizodách: VOY: Parallax, VOY: Phage, VOY: Emanations, VOY: Prime Factors, VOY: State Of Flux, VOY: Maneuvers, VOY: Alliances, VOY: Investigations, VOY: Lifesigns, VOY: Basics, VOY: Worst Case Scenario a VOY: Shattered. Martha Hackett hrála i Tarrellianku v TNG: Haven.
Kenneth Marshall se poprvé objevuje jako nadporučík Michael Eddington, kterého si zahrál ještě v DS9: The Die Is Cast, DS9: The Adversary, DS9: Rejoined, DS9: Our Man Bashir, DS9: For The Cause a DS9: For The Uniform a DS9: Blaze Of Glory.
Dennis Christopher ese ještě objevil jako Danik v ENT: Detained.
Christopher Doyle (jem'hadarský důstojník) si ještě zahrál klingonského útočníka v TNG: Sins Of The Father a pracoval jako kaskadér při natáčení filmu ST IX: Insurrection.
Tom Morga se už objevil jako glinn Corak v TNG: Chain Of Command, Part I, jako Naucicaan #3 v TNG: Tapestry, jako Soto v DS9: The Sword Of Kahless, jako Klingon ve filmu ST I: The Motion Picture, jako emzák v ST VI: The Undiscovered Country, jako Minnis ve VOY: Alliances a jako ještěří Xind v ENT: Carpenter Street.
---