Equinox, Part II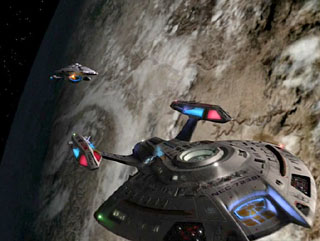 Hvězdné datum: neuvedeno
Datum premiéry: 22.9.1999
Český název: Equinox, část 2
Datum české premiéry: 9.2.2001
Hodnocení:
Uživatelské hodnocení

(6)

:
chci hodnotit
Poté, co Equinox unikl a nechal Voyager napospas nukleogenickým tvorům se Janeway rozhodne, že za to musí kapitán Equinoxu zaplatit a je rozhodnuta ho uštvat za každou cenu. Na palubě Equinoxu se mezitím pozměněný Doctor snaží z těla Seven dostat kódy Voyageru a to i kdyby kvůli tomu musela zemřít...
---
---
Special Guest Star
John Savage as "Captain Ransom"

Guest Stars
Titus Welliver: [Maxwell Burke]
Olivia Birkelund: [Ensign Marla Gilmore]
Rick Worthy: [Crewman Noah Lessing]

Theme By: Jerry Goldsmith
Creative Consultant: Jeri Taylor
Creative Consultant: Michael Piller
Co-Producer: Brad Yacobian
Producer: J.P. Farrell
Supervising Producer: Merri D. Howard
Supervising Producer: Peter Lauritson
Co-Executive Producer: Ronald D. Moore
Co-Executive Producer: Joe Menosky
Teleplay By: Brannon Braga & Joe Menosky
Story By: Rick Berman & Brannon Braga & Joe Menosky
Directed By: David Livingston

Executive Producers: Rick Berman & Brannon Braga

Co-Producer: Dawn Velazquez
Associate Producer: Stephen Welke
Executive Story Editor: Bryan Fuller
Story Editor: Michael Taylor

Co-Stars
Eric Steinberg: Ankari
Steve Dennis: Thompson
Majel Barrett: Computer Voice[/Narrator]
---
Poznámky
K posádce Voyageru se připojilo pět členů posádky Equinoxu: Noah Lessing, Maria Gilmore, James Morrow, Brian Sofin, and Angelo Tossoni.
Rick Worthy si také zahrál člena xindské rady v ENT: The Xindi, ENT: Rajiin, ENT: Proving Ground, ENT: Azati Prime, ENT: Damage, ENT: The Forgotten, ENT: E², ENT: The Council, ENT: Countdown, ENT: Zero Hour. Ve Star Treku si také zahrál Komana v DS9: Soldiers Of The Empire a automatickou jednotku 3947 ve VOY: Prototype.
Steven Dennis (Thompson) se ve Star Treku objevil už vícekrát a to jako noční cizinec ve VOY: Night, jako Fennim ve VOY: Think Tank, Onquanii ve VOY: Warhead a Andorian Tholos v ENT: The Andorian Incident a ENT: Shadows Of P'Jem.
Eric Steinberg (Ankar) se také objevil jako poručík Paul Porter ve filmu ST VIII: First Contact.
---